The King Air Book – Volume II
e-Book by Tom Clements
ADDITIONAL TALES FROM FORTY-SEVEN YEARS OF FLYING AND TEACHING IN THE WORLD'S MOST-POPULAR EXECUTIVE AIRCRAFT
Available in the USA, Canada, and Mexico.  To purchase from within other countries email [email protected] or call 1-602-551-8100.
Terms and Conditions
1.0 Introduction
These terms and conditions set out the terms and conditions between you, the customer, and King Air Academy ("us", "we"), governing the use of our website and our downloadable digital books including the content therein (the "products"). Your use of our website, and purchase, download, and use of our products, constitutes your full acceptance of these terms and conditions. If you do not agree with these terms and conditions, you should not use our website or purchase, download, or use any of our products.
2.0 License and Use
Your purchase of one of our products constitutes our granting to you of a non-exclusive, non-sublicensable, non-transferable license to download and access that product for the purpose of your own personal use and reference, and print the product for your own storage, retention, and reference (the "purpose"). You agree that under no circumstances shall you use, or permit to be used, any product other than for the aforesaid purpose. For the avoidance of doubt, you shall not copy, re-sell, sublicense, rent out, share or otherwise distribute any of our products, whether modified or not, to any third party. You agree not to use any of our products in a way which might be detrimental to us or damage our reputation.
3.0 Intellectual Property
The products, whether modified or not, and all intellectual property and copyright contained therein, are and shall at all times remain our sole and exclusive property. You agree that under no circumstances, whether the product has been modified or not, shall you have or attempt to claim ownership of any intellectual property rights or copyright in the product.
4.0 Refunds and Chargebacks
Once a product has been purchased by you, no right of cancellation or refund exists due to the electronic nature of our products. Any refunds shall be at our sole and absolute discretion. You agree that under no circumstances whatsoever shall you initiate any chargebacks via your payment provider. You agree that any payments made by you for any of our products are final and may not be charged back. We reserve the right to alter any of our prices from time to time.
5.0 Warranties and Liability
We make every effort to ensure that our products are accurate, authoritative, and fit for the use of our customers. However, we take no responsibility whatsoever for the suitability of the product, and we provide no warranties as to the function or use of the product, whether express, implied, or statutory, including without limitation any warranties of merchantability or fitness for a particular purpose. You agree to indemnify us against all liabilities, claims, demands, expenses, actions, costs, damages, or loss arising out of your breach of these terms and conditions. Furthermore, we shall not be liable to you or any party for consequential, indirect, special, or exemplary damages including but not limited to damages for loss of profits, business, or anticipated benefits whether arising under tort, contract, negligence, or otherwise whether or not foreseen, reasonably foreseeable or advised of the possibility of such damages.
6.0 General
These terms and conditions constitute the entire agreement and understanding between you and us for the supply of downloadable digital products and shall supersede any prior agreements whether made in writing, orally, implied, or otherwise. The failure by us to exercise or enforce any right(s) under these terms and conditions shall not be deemed to be a waiver of any such right(s) or operate so as to bar the exercise or enforcement thereof at any time(s) thereafter, as a waiver of another or constitute a continuing waiver. You agree that monetary damages may not be a sufficient remedy for the damage which may accrue to us by reason of your breach of these terms and conditions, therefore we shall be entitled to seek injunctive relief to enforce the obligations contained herein. The unenforceability of any single provision within these terms and conditions shall not affect any other provision hereof. These terms and conditions, your acceptance thereof, and our relationship with you shall be governed by and construed in accordance with US law, and both us and you irrevocably submit to the exclusive jurisdiction of the US courts over any claim, dispute, or matter arising under or in connection with these terms and conditions or our relationship with you.
Contacting Us
Please do not hesitate to contact us regarding any matter relating to this Downloadable Digital Products Terms and Conditions of Sale Policy via email [email protected]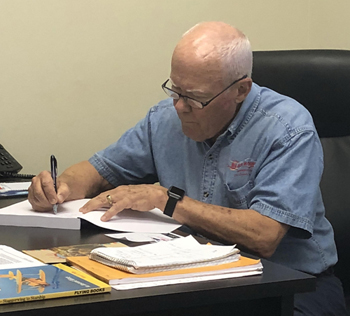 Since 1972, Tom Clements' career has concentrated on a unique niche: The Beechcraft King Air series of turboprop twins.  Starting as a flight and ground school instructor at the Beechcraft Training Center in Wichita.  Tom advanced to become the head of that institution three years later, overseeing the factory's pilot and maintenance training.
While at the Training Center, Tom authored numerous system descriptions, simplified schematics, and other documentation that were incorporated into the Beechcraft curriculum.  He always enjoyed writing – English was his collage minor while Mechanical Engineering was the major! – and he found the creation of easy-to-understand technical material for pilot training to be very satisfying.
Leaving Wichita to return to California where he had served his Naval tour of duty, he formed his own training company in 1979 to provide high-quality, on-site, ground and flight training for operators of Beechcraft Dukes and King Airs.  Flight Review Inc. moved its headquarters to Arizona in 1987 where Tom still resides most of the year.  He is now fulfilling the honorary role of Director of Training for the King Air Academy in Phoenix.
Tom has had a long-term sideline in writing technical articles about flying in general and King Airs in particular for some aviation magazines.  The Volume II of the King Air Book is a compilation of some ninety articles he has written since 2011 for the "Ask the Expert" column in King Air magazine.
Pilots and/or owners of any King Air will find these stories educational, insightful, and enjoyable.
FORMAT – PDF
REQUIRED SOFTWARE – Adobe Reader (recommended) or Other PDF Reader
SUPPORTED DEVICES – All devices and operating systems supported by Adobe Reader or reader of your choice
LANGUAGE – English
FEATURES – Hyperlinked Table of Contents and keyword searchable
PRINTABLE – Yes (single copy personal use only)
ISBN – 9780-359-75450-2
PUBLISHED BY – Flight Review, Inc.
PUBLISHED – December 2019
COPYRIGHT – Tom Clements
  Part 1 – Engine and Propeller
  Part 2 – Flaps, Landing Gear, Brakes
  Part 3 – Ice Protection
  Part 4 – Autopilot and Yaw Damper
  Part 5 – Electrical
  Part 6 – Cabin Air Circulation
  Part 7 – Pressurization
  Part 8 – Heati
  Part 9 – Flying Techniques and Procedures
  Part 10 – Fuel Systems
  Part 11 – King Air History
  Part 12 – Pitot-Static System
  Part 13 – Flight Control Rigging
  Part 14 – War Stories
  Part 15 – Oceanic Ferrying
  Part 16 – Miscellaneous Ramblings
Introduction
I wrote The King Air Book ten years ago and have been pleased to see nearly 5,000 copies printed since then. It has given me great satisfaction to receive the compliments that have been forthcoming from its readers. Although I am always quick to state that the book can never replace the Pilot's Operating Handbook nor the professional training material that the new King Air pilot receives, nevertheless I believe that the book is an excellent addition and resource that widens the pilot's knowledge base significantly.
The first book was primarily a compilation of magazine articles that I had written over an eleven-year period for Twin & Turbine and Affiliated Aircraft Operators' Group. In January of 2011 my first article for King Air Magazine was published and I have continued writing for that magazine ever since. This magazine, edited by Kim Blonigen, was initially published six times per year, then it went to nine issues annually in 2013, and finally it became a true monthly magazine in 2014. My workload keeps increasing!
I continue to enjoy writing about flying in general and the King Air specifically. Based on the feedback received, I believe the articles are still appreciated and help to broaden the readers' knowledge in an enjoyable manner. These King Air Magazine articles are the basis for Volume II.
In addition to writing the monthly articles, I also find pleasure in offering input on the BeechTalk internet forum. This fun and informative website, managed by the very capable "Jeffs" – Jeff Carneal and Jeff Snyder – has proven to be an absolute goldmine of shared information from operators and lovers of all Beech airplanes. The Turbine section is where I spend most of my time at BeechTalk (BT). If you have not already subscribed to this forum please do so. You will find it very enlightening. Use the Search function to quickly find the topics of interest.
I debated with myself about how much of my forum writings should be included in this book. I concluded that readers could always go straight to BeechTalk and find whatever interests them there. Thus, the direct quotes from my input on that forum are not presented here but I strongly encourage you to become a regular reader of that forum, giving special attention to the newly-posted Turbine section threads.
You will find two differences between the first book and this Volume II. First, instead of making each section of the book a separate article, usually placed in the chronological order in which it was written, this book is organized based on general topics. These include titles such as Engine and Propeller, Electrical, Pressurization, Operating Techniques, and many others.
The second difference – Got your seatbelt on? – is that you are going to see a few pictures and illustrations. The first book had almost none of these. As a writer, I am more experienced in presenting "Word Pictures" and believe that quite satisfactory communication can take place using the written word alone but I realize and accept that the judicial use of illustrations can enhance comprehension – and enjoyment – to a measurable degree. No, it is certainly not a "picture book" in any sense of the word but you are going to find at least some illustrations and pictures along the way.
Because ten-year's worth of articles unavoidably contain duplication, I have edited some of the original article's content here. In some cases an article may be presented exactly as it appeared in the magazine. In other cases, it will be edited as needed to avoid unnecessary duplication but duplication of some important material is unavoidable and enhances knowledge transfer.
Thank you for reading Volume II. As always, I send you my best wishes for safe and happy flying!
Tom Clements