The King Air Book – Volumes I & II
e-Books by Tom Clements
HOLIDAY SPECIAL PRICING $30.00
e-BOOK SET WHICH INCLUDES:
A TREASURY OF THIRTY-SEVEN YEARS OF FLYING AND TEACHING PLUS ADDITIONAL TALES FROM FORTY-SEVEN YEARS OF FLYING AND TEACHING IN THE WORLD'S MOST POPULAR EXECUTIVE AIRCRAFT
Available in the USA, Canada, and Mexico.  To purchase from within other countries email [email protected] or call 1-602-551-8100.
Terms and Conditions
1.0 Introduction
These terms and conditions set out the terms and conditions between you, the customer, and King Air Academy ("us", "we"), governing the use of our website and our downloadable digital books including the content therein (the "products"). Your use of our website, and purchase, download, and use of our products, constitutes your full acceptance of these terms and conditions. If you do not agree with these terms and conditions, you should not use our website or purchase, download, or use any of our products.
2.0 License and Use
Your purchase of one of our products constitutes our granting to you of a non-exclusive, non-sublicensable, non-transferable license to download and access that product for the purpose of your own personal use and reference, and print the product for your own storage, retention, and reference (the "purpose"). You agree that under no circumstances shall you use, or permit to be used, any product other than for the aforesaid purpose. For the avoidance of doubt, you shall not copy, re-sell, sublicense, rent out, share or otherwise distribute any of our products, whether modified or not, to any third party. You agree not to use any of our products in a way which might be detrimental to us or damage our reputation.
3.0 Intellectual Property
The products, whether modified or not, and all intellectual property and copyright contained therein, are and shall at all times remain our sole and exclusive property. You agree that under no circumstances, whether the product has been modified or not, shall you have or attempt to claim ownership of any intellectual property rights or copyright in the product.
4.0 Refunds and Chargebacks
Once a product has been purchased by you, no right of cancellation or refund exists due to the electronic nature of our products. Any refunds shall be at our sole and absolute discretion. You agree that under no circumstances whatsoever shall you initiate any chargebacks via your payment provider. You agree that any payments made by you for any of our products are final and may not be charged back. We reserve the right to alter any of our prices from time to time.
5.0 Warranties and Liability
We make every effort to ensure that our products are accurate, authoritative, and fit for the use of our customers. However, we take no responsibility whatsoever for the suitability of the product, and we provide no warranties as to the function or use of the product, whether express, implied, or statutory, including without limitation any warranties of merchantability or fitness for a particular purpose. You agree to indemnify us against all liabilities, claims, demands, expenses, actions, costs, damages, or loss arising out of your breach of these terms and conditions. Furthermore, we shall not be liable to you or any party for consequential, indirect, special, or exemplary damages including but not limited to damages for loss of profits, business, or anticipated benefits whether arising under tort, contract, negligence, or otherwise whether or not foreseen, reasonably foreseeable or advised of the possibility of such damages.
6.0 General
These terms and conditions constitute the entire agreement and understanding between you and us for the supply of downloadable digital products and shall supersede any prior agreements whether made in writing, orally, implied, or otherwise. The failure by us to exercise or enforce any right(s) under these terms and conditions shall not be deemed to be a waiver of any such right(s) or operate so as to bar the exercise or enforcement thereof at any time(s) thereafter, as a waiver of another or constitute a continuing waiver. You agree that monetary damages may not be a sufficient remedy for the damage which may accrue to us by reason of your breach of these terms and conditions, therefore we shall be entitled to seek injunctive relief to enforce the obligations contained herein. The unenforceability of any single provision within these terms and conditions shall not affect any other provision hereof. These terms and conditions, your acceptance thereof, and our relationship with you shall be governed by and construed in accordance with US law, and both us and you irrevocably submit to the exclusive jurisdiction of the US courts over any claim, dispute, or matter arising under or in connection with these terms and conditions or our relationship with you.
Contacting Us
Please do not hesitate to contact us regarding any matter relating to this Downloadable Digital Products Terms and Conditions of Sale Policy via email [email protected]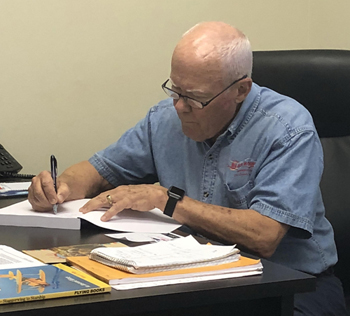 Since 1972, Tom Clements' career has concentrated on a unique niche: The Beechcraft King Air series of turboprop twins.  Starting as a flight and ground school instructor at the Beechcraft Training Center in Wichita.  Tom advanced to become the head of that institution three years later, overseeing the factory's pilot and maintenance training.
While at the Training Center, Tom authored numerous system descriptions, simplified schematics, and other documentation that were incorporated into the Beechcraft curriculum.  He always enjoyed writing – English was his collage minor while Mechanical Engineering was the major! – and he found the creation of easy-to-understand technical material for pilot training to be very satisfying.
Leaving Wichita to return to California where he had served his Naval tour of duty, he formed his own training company in 1979 to provide high-quality, on-site, ground and flight training for operators of Beechcraft Dukes and King Airs.  Flight Review Inc. moved its headquarters to Arizona in 1987 where Tom still resides most of the year.  He is now fulfilling the honorary role of Director of Training for the King Air Academy in Phoenix.
Tom has had a long-term sideline in writing technical articles about flying in general and King Airs in particular for some aviation magazines.  The Volume II of the King Air Book is a compilation of some ninety articles he has written since 2011 for the "Ask the Expert" column in King Air magazine.
Pilots and/or owners of any King Air will find these stories educational, insightful, and enjoyable.
FORMAT – PDF
REQUIRED SOFTWARE – Adobe Reader (recommended) or Other PDF Reader
SUPPORTED DEVICES – All devices and operating systems supported by Adobe Reader or reader of your choice
LANGUAGE – English
FEATURES – Hyperlinked Table of Contents and keyword searchable
PRINTABLE – Yes (single copy personal use only)
PUBLISHED BY  – Flight Review, Inc.
COPYRIGHT – Tom Clements
THE KING AIR BOOK – VOLUME I
ISBN – 978-0-578-04534-4
PUBLISHED – 2009 – Revised June 2020
THE KING AIR BOOK – VOLUME II
ISBN – 9780-359-75450-2
PUBLISHED – December 2019
What's inside
          The King Air Book – Volume I
PART 1 - FLYING TIPS
 Your Four Friends
  IFR Approaches – The Basics
 When an Engine Quits
  Using Checklists
  Whoa, Big Fella!
 Steep Turn Tips
 Using the Flight Director
  Give Yourself a Checkride
 King Air Piloting Tips
 Handling Crosswinds
 Utilizing the Track Display
 Flying Arcs
 Short Field Techniques
 Leg Mode vs. OBS Mode
 Thunderstorm Avoidance in the New Age
 Using the BC Mode Correctly
 Avionics Updating
PART 2 - TECHNICAL TOPICS
  Starting PT6-Powered King Airs
  Engine Starting…Again
  The PT6 Fuel System
  The Condition Lever
  Pneumatic Fuel Management
  Setting Cruise Power Correctly
Recording Engine Cycles
C90B Fuel Management
  Bleed Air Usage Tips
  Old Myths That Refuse to Die
  Propellers – What Pilots Can Check
  Autofeather – What a Great System!
  300-Series Low Pitch Stops
  King Air Ramblings
  Hot Weather Ground
  Cold Weather Ground Operation
  Electric Heater Usage
  Collins FCS-65 Flight Control System
  SPZ-200A and SPZ-4000 Flight Control Systems
  Collins AP-105 / FD-108 or FD-109 AP/FD System
  Rudder Boost Systems
  Cabin Air Circulation and Temperature Balance
  The Lost Opportunity
  Questions and Answers
PART 3 - BONUS EXTRAS
 90-Series History
 B100 Review and Commentary
 Flying to Europe
 Special Delivery to Japan
 Flying the South Pacific
 Early Flying Memories
Introduction
I learned to fly in 1962 in New Castle, Indiana, between my Junior and Senior years of High School. My parents, Bill and Ruth Clements, were generous enough to offer to pay for my lessons if I retained my record of good school grades through my Junior year. I guess I met their goals, since they did indeed fund my Private Pilot rating. As you will read in the last chapter of this book, I always loved airplanes and flying…even though my first experiences aloft usually left me sick! As I took the lessons from Larry Barker, my first instructor, never did I think that aviation would wind up being my career. In my family, being a pilot wasn't a high enough aspiration. One had to be a banker, doctor, lawyer, engineer, or other "professional"…and being a pilot, in their ignorance, wasn't on that list. So, to me at the time, getting the Private Pilot license was simply a fun thing to do and something that would allow me to enjoy a neat hobby as I pursued my "real" career.
After graduating from Carnegie Institute of Technology – it changed its name to Carnegie-Mellon University on my graduation day – with a BS in Mechanical Engineering in 1967, I knew that Uncle Sam was eagerly awaiting young men like me for duty in Vietnam. "Let's see now: Being drafted into the Infantry or enlisting in the Navy: Which is the more advantageous route?" I opted for the Navy. I enlisted and was sent to Officer Candidates' School in Newport, Rhode Island,  in August, 1967. A lucky break had me selected to interview with Admiral Hyman Rickover himself for the Navy's Nuclear Power Program as an instructor of Thermodynamics and Heat Transfer at their school in Vallejo, California. Even though I told the Admiral that I'd prefer to be on a ship, he selected me as one of his officer cadre.
In January of 1968 I reported for duty at the Nuclear Power School at Mare Island Naval Shipyard in Vallejo, at the north end of San Francisco Bay. The job was challenging and educational, both for the students as well as myself, and I was proud to spend four years there, leaving the service with a rank of Lieutenant. However, I had a lot of free time on evenings and weekends and I used that time to extend my flying avocation with Commercial, Instrument, Multiengine, and Instructor ratings earned from Navajo Aviation, in Concord. With sufficient ratings, I started instructing on a part-time basis for John Thompson at Sonoma Skypark  a small 2,500 foot strip, a little west of Napa. What fun!
As my four years and four months of Navy commitment neared its end as 1971 came to a close, I debated what the future would hold: Would I accept the offer to pursue an MBA at Harvard or would I follow my heart into an aviation career?
Crazy? You bet! I went with aviation. Maybe it was rebellion against my folks, maybe it was the "Do your own thing" mentality of the San Francisco hippies of the '70s, or maybe it was God's leading hand…I chose the path less travelled, and I have never regretted the decision.
Sending resumes to any entity that might consider a 1,500-hour pilot with most of the ratings, I started considering the replies. I was very near-sighted and thus knew that airline flying – as well as military flying – was not in the equation. I concentrated instead on instruction, demonstration flying, and corporate aviation.
Wonder of wonders, Beech Aircraft Corporation replied and wanted me to come to Wichita for an interview! Why would they consider a newbie like me? Well, because the instructors at the Beechcraft Training Center (BTC) taught both ground school as well as did flight training and Beech liked the fact that I'd survived four years of classroom teaching at Nuke School.
I passed the interview process and showed up for work on January 3, 1972. At that time, the Beechcraft Training Center was comprised of only five instructors, plus our boss, C. Don Cary, and JoAnn Louie, our fantastically-capable secretary. All of Beech's training at the time was done in the classroom and in the airplane, no simulators. We covered the King Air models – at that time, only the 90, A90, B90, C90, 100, and A100 – as well as the Duke, or Beech model 60. "Look, Ma, a month ago I didn't know what a King Air instructor was, and now I are one!"
I feel sorry in retrospect for my first few students…I was barely a page ahead of them in the book! I had great mentors there, however – Don Cary, Bob Dunfee, Alan Roberts, Bud Small, Mike Unsane, to name a few – and soon I was staying a good step or two ahead of our attendees.
The sales of general aviation airplanes entered a robust period at that time, following a slump in the late '60s, and soon the BTC was humming with activity, forcing the instructors to work overtime and leading to a rapidly-expanding staff. I was assigned the C90 program and was the first instructor for the E90 that made its appearance that year, 1972. In late 1972 the prototype model 200 – then known as the model 101 – made its maiden flight, that I was thrilled to watch, and it went on to receive certification the next year. I was assigned to be the lead instructor on that new model and was trained in serial number BB-1 by Bud Francis, the chief test pilot on the program, and in BB-2 by Mike Preston, his number two man. What a huge step-up in performance the Super King Air 200 offered! What a joy to fly! Want to know what good airplane handling qualities are? Fly a BE-200. The military version of the model 200 – the C-12A – made its appearance in 1976 and that program was also my training responsibility.
In 1974 I was promoted to the lead Instructor Pilot position and a year later I was appointed head of the entire BTC, both pilot and mechanic training. When I decided to accept a position in the Beech sales organization in California in late 1976, our staff totaled eighteen people…a lot of growth in five years!
Being a salesman was not my cup of tea. For those who can successfully make the required hundreds of cold calls, follow-up with the few demonstrations, close the deal, deliver the airplane, and support the customer after the sale, my hat is off to them! I did not enjoy it nor did I do well at it. I missed the flying and instructing side of things.
My boss at the time, Larry Hall, head of the Beechcraft West distributorship in Fresno and Hayward, California, sensing my discomfort, offered me a leave-of-absence while I delivered BB-294 to the government of the Malaysian state of Sabah, on the island of Borneo, and where I then remained for four months, flying the plane while training the Malaysian crews.
That Asian sojourn was a real treat…fun, challenging, learning about a new location and culture, and getting paid a lot, too! During those months, I reached the inevitable conclusion that I did not wish to remain as a salesman but instead wanted to get back into active flying. Mr. Hall advised me that Beacon Oil Company, in Hanford, California – to which he and I had sold a model 200 – had their pilot leave unexpectedly and that they were wondering if I'd consider flying for them upon my return from Sabah. Yes!
My first wife was not willing to leave the Bay Area where we were living, so I commuted by car the four hours down to Visalia, where Beacon had their hangar, and remained there for most of each week, living in a cheap motel, while I decided whether or not to commit to a long-term relationship with this fine company. Had it been just myself, I would probably have accepted a full-time job there. As a married man, however, I decided to stay in the Bay Area.
What to do now? Some of us BTC instructors had made numerous trips away from Wichita to larger customers – General Motors, Marathon Oil, IBM, to name a few – to provide on-site training at their facilities, since it was cost-beneficial for those companies to pay for one instructor's travel and expenses to their location instead of paying for ten or twenty of their pilots to travel to and stay in Wichita during training. Yet, when the demands for training grew so rapidly in the heydays of the '70s, we no longer had enough staff to both meet our demands at the factory as well as to offer the on-site training option.
Beech's decision to no longer provide on-site training planted the germ of an idea in my head…why not fill that niche? Thus, in January of 1979, Flight Review, Inc., was incorporated in Hayward, California, for the express purpose of providing on-site King Air and Duke Initial and Recurrent pilot training. Thanks to the contacts made through Beech, my services were rather readily accepted and my little company met with quick success. I think it was 1981 when I spent 232 nights in hotel rooms! I needed help!
David Yount – another ex-BTC employee – was the first instructor I hired to help me and I have been very blessed to have had two other absolutely marvelous, highly-talented, instructors give me their extremely loyal and competent service through the years: Eric Berger and Al Hancock. Also, Dianne Grollemond and Kathleen Reese, who served successively as my administrative assistants, provided invaluable service to me and to our clients. Without these capable and hard-working employees, Flight Review would not have enjoyed the success that it did.
Traveling to conduct training for twenty-one years was enough for me. I was becoming burnt out. In 1998, I contacted SimCom's president and founder, Wally David, to see if he'd be interested in discussing a possible merger or buy-out. The outcome was that, in January of 2000, while I retained the Flight Review company name and the rights to sell my GPS and King Air training videos, SimCom received all of my training materials and my customer list. I signed a five-year, no-compete, contract. I spent three years working for SimCom in Scottsdale while the transition took place, then entered a semi-retired phase of my life, doing occasional flying, flight training, and aircraft management of some Phoenix-based King Airs.
In the early '90s I was approached by Bob Goff and then Paul Neuda, asking me to write some technical articles concerning King Air operation for their respective magazines: Twin and Turbine and King Air Operators Group, that soon became Affiliated Aircraft Operator Groups (AAOG). I have always enjoyed writing – my college minor was English! – and I had written extensively at the BTC, creating most of the factory's written handouts. I jumped at this chance to write on a regular basis. Both magazines paid me nothing – they did provide some free advertising – but I believed that the exposure would help my company grow.
Right? Wrong? Who knows. It's what I chose to do.
My articles were met with appreciation from lots of my King Air pilot customers and later on I often heard the question, "When are you going to compile all of that information into a book?"
The answer is: Now. At last I have decided to expend the time and effort to make this book a reality.
Keeping in mind that these articles were written over nearly a fifteen-year period, not all of the information contained within them is current. For example, VOR/ILS navigation was the only way to go back before Loran and then GPS hit the scene. There are also topics that are discussed more than once. However, I have included nothing that I feel will be wasted on the readers.
Part 1 of this book, Flying Tips, includes the articles that, although written for King Air pilots, often contain suggestions and techniques that could be applied to almost any pilot in any airplane. Part 2, Technical Topics, definitely is meant solely for King Air operators. Reading this part should expand the pilots' knowledge about how the airplane works and what can be done to maximize enjoyment, comfort, and safety while minimizing abuse to any system. Part 3, Bonus Extras, as the title implies, is where I have included additional material that I think the readers will find interesting, worthwhile, and fun.
When I started working for the Beech Aircraft Company it was still family-owned and the Chairman of the Board was that icon of American aviation, Olive Ann Beech, widow of the company's founder, Walter Beech. (Flying Mrs. Beech in her King Air on some of the company's business is a highlighted memory that I'll always cherish!) Later, the company was sold to Raytheon and even later to an entity that calls itself Hawker Beechcraft. Some of the articles contain references to these other factory owners but, being an ex-"Beechcrafter" myself, Beech and Beechcraft are still my preferred methods of designating the manufacturer of the King Air series of airplanes.
I have now logged over 21,000 hours of flight time and over 15,000 of these have been in King Airs. If there is a higher-time, more experienced, King Air pilot out there, I am not aware of whom it may be. I have been truly fortunate to experience the career that I have in this workhorse of a flying machine. Probably no other executive transport would have provided me the depth and breadth of a customer base that allowed me to succeed in the manner I did.
The King Air has been very good to me. It is my ardent hope that this book will be good to those pilots who operate King Airs now and those who will do so in the future.
Tom Clements
What's inside
          The King Air Book – Volume II
  Part 1 – Engine and Propeller
  Part 2 – Flaps, Landing Gear, Brakes
  Part 3 – Ice Protection
  Part 4 – Autopilot and Yaw Damper
  Part 5 – Electrical
  Part 6 – Cabin Air Circulation
  Part 7 – Pressurization
  Part 8 – Heati
  Part 9 – Flying Techniques and Procedures
  Part 10 – Fuel Systems
  Part 11 – King Air History
  Part 12 – Pitot-Static System
  Part 13 – Flight Control Rigging
  Part 14 – War Stories
  Part 15 – Oceanic Ferrying
  Part 16 – Miscellaneous Ramblings
Introduction
I wrote The King Air Book ten years ago and have been pleased to see nearly 5,000 copies printed since then. It has given me great satisfaction to receive the compliments that have been forthcoming from its readers. Although I am always quick to state that the book can never replace the Pilot's Operating Handbook nor the professional training material that the new King Air pilot receives, nevertheless I believe that the book is an excellent addition and resource that widens the pilot's knowledge base significantly.
The first book was primarily a compilation of magazine articles that I had written over an eleven-year period for Twin & Turbine and Affiliated Aircraft Operators' Group. In January of 2011 my first article for King Air Magazine was published and I have continued writing for that magazine ever since. This magazine, edited by Kim Blonigen, was initially published six times per year, then it went to nine issues annually in 2013, and finally it became a true monthly magazine in 2014. My workload keeps increasing!
I continue to enjoy writing about flying in general and the King Air specifically. Based on the feedback received, I believe the articles are still appreciated and help to broaden the readers' knowledge in an enjoyable manner. These King Air Magazine articles are the basis for Volume II.
In addition to writing the monthly articles, I also find pleasure in offering input on the BeechTalk internet forum. This fun and informative website, managed by the very capable "Jeffs" – Jeff Carneal and Jeff Snyder – has proven to be an absolute goldmine of shared information from operators and lovers of all Beech airplanes. The Turbine section is where I spend most of my time at BeechTalk (BT). If you have not already subscribed to this forum please do so. You will find it very enlightening. Use the Search function to quickly find the topics of interest.
I debated with myself about how much of my forum writings should be included in this book. I concluded that readers could always go straight to BeechTalk and find whatever interests them there. Thus, the direct quotes from my input on that forum are not presented here but I strongly encourage you to become a regular reader of that forum, giving special attention to the newly-posted Turbine section threads.
You will find two differences between the first book and this Volume II. First, instead of making each section of the book a separate article, usually placed in the chronological order in which it was written, this book is organized based on general topics. These include titles such as Engine and Propeller, Electrical, Pressurization, Operating Techniques, and many others.
The second difference – Got your seatbelt on? – is that you are going to see a few pictures and illustrations. The first book had almost none of these. As a writer, I am more experienced in presenting "Word Pictures" and believe that quite satisfactory communication can take place using the written word alone but I realize and accept that the judicial use of illustrations can enhance comprehension – and enjoyment – to a measurable degree. No, it is certainly not a "picture book" in any sense of the word but you are going to find at least some illustrations and pictures along the way.
Because ten-year's worth of articles unavoidably contain duplication, I have edited some of the original article's content here. In some cases an article may be presented exactly as it appeared in the magazine. In other cases, it will be edited as needed to avoid unnecessary duplication but duplication of some important material is unavoidable and enhances knowledge transfer.
Thank you for reading Volume II. As always, I send you my best wishes for safe and happy flying!
Tom Clements